Process Description
Application scope:
Power voltage: AC 380V -15~+10% 3N 50Hz
Operation environment:
(1) Temperature: -10~40°C
(2) Relative humidity: < 90%
(3) Altitude: < 2000m
Cement conditions:
(1) Moisture content: <1%
(2)Packing temperature: <120°C
(3) Density: Generic 1.1~1.3t/m3
This machine is a side filling style rotary packing machine with 8 spouts, weighing controlled by micro-computer, impeller feeding style.
Rotary Cement Packing Machine is mainly used for packing cement; meanwhile, it also may be used for filling bulk materials of powder and granule.
This series of machine is mainly used for filling cement into 25-50kg bags. In addition, it also can be used for filling other powdery and granular materials with good flow performance. Except manually bag inserting, all the other filling processes can be done by the packing machine automatically and continuously.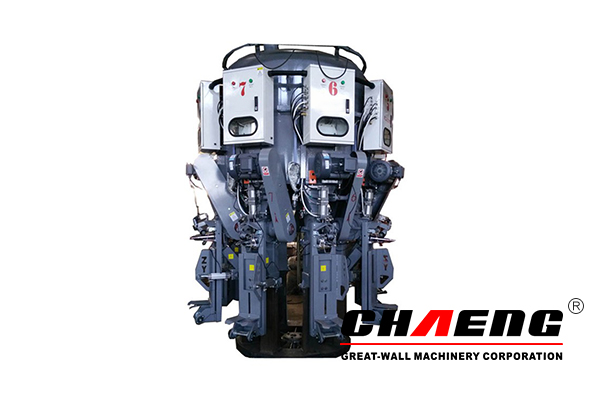 Model BHYW8S numerical control rotary cement packing machine is the central equipment among the cement packing system. The control system of the packing machine adopts technology of microcomputer and servo motor. It has main features of more accurate measuring accuracy, higher capacity, low failure rate and environmental protection.
Features
(1) Pneumatic control type.
(2) Side filling and Impeller feeding type.
(3) Two steps filling: rough and thin.
(4) Each spout filling weight controlled by micro-computer and load sensor separatly.
About chaeng
Founded in 1958 and located in Xinxiang, Henan province, CHAENG has 60-year experience in equipment manufacturing with an area of 330,000 m2 and 1 billion RMB of annual production value. The company is specialized in manufacturing ball mills, rotary kilns, vertical mills, large steel casting and can undertake the EPC projects of cement plant, active lime production lines, blast furnace slag/ steel slag/ nickel slag grinding plants. Its products are sold to more than 50 countries and regions in Southeast Asia, Central Asia, South Asia, North America, South America and Europe.
Our long-term strategic partners: Arcelor Mittal, Tata Group, Pohang Iron and Steel Company, Germany CCE, Japan Chiba , Shanghai Baosteel,Voestalpine and Aosen steel.