Cooler
Process Description
The cooler is one of the main equipment for quick lime calcining. It is widely used in building materials, chemical industry, metallurgy, etc and work as the matching facility of rotary kiln.
CHAENG can not only supply the cooler,but also provides design,selection, installation and commissioning for the whole active lime production line,this will make custom more convenient.
The main purpose of vertical cooler in lime cooling process:
It is based on the need of fast lime calcining & quick lime cooling. The vertical cooler would prevent the lime clinker from reacting when out of the kiln under the high temperature after the kiln, which can cause the crystal to get bigger, so change the activity performance. It is good for high productivity, fast delivery and storage. Through the rapid conversion of waste heat of material, high quality combustion air is obtained. it makes the cylinder with 3.5% gradient rotate in low speed. The material is feed from the top of cylinder, then it is lifted up, scattered by lifter blade.The cooling material discharge from the low end.

Specifications
Capacity (T/D)
200
300
400
600
800
1000
Product
Active lime
Active lime
Active lime
Active lime
Active lime
Active lime
Cooler
Specification
LS-3×3
LS-3.6×3.6
LS-3.8×3.8
LS-4.1×4.1
LS-4.7×4.7
LS-5.2×5.2
Feed temperature
1100±50°C
1100±50°C
1100±50°C
1100±50°C
1100±50°C
1100±50°C
Discharge temperature
<100°C
<100°C
<100°C
<100°C
<100°C
<100°C
Product Usage
1. Cooler is used in lime rotary kiln, Reduced the secondary abrasion of lime clinker in the cooling process, and the lime clinker was cooled and discharged as a whole.
2. Shorten the cooling time. The cooling process needs about 40 minutes of the lime clinker. The discharge temperature < 100 ℃.
3. Increase secondary air temperature fast, and air temperature > 600 ℃.
4. The performance and physical chemical indexes of lime are effectively guaranteed. At the same time, it has the characteristics of less occupied area, optimized equipment structure and easy maintenance.
Successful Cases
The application of cooler by CHAENG in 400,000 t/y Guangxi Quick Lime Production Line
About CHAENG
Founded in 1958 and located in Xinxiang, Henan province, CHAENG has 60-year experience in equipment manufacturing with an area of 330,000 m2 and 1 billion RMB of annual production value. The company is specialized in manufacturing all kinds of ball mills, rotary kilns, vertical mills, large steel castings. And we can undertake the EPC projects of cement production line, quick lime production line, blast furnace slag/ steel slag/ nickel slag grinding plants. Its products are sold to more than 50 countries and regions in Southeast Asia, Central Asia, South Asia, North America, South America and Europe.
Our long-term strategic partners: Arcelor Mittal, Tata Group, Pohang Iron and Steel Company, Germany CCE, Japan Chiba , Shanghai Baosteel,Voestalpine and ASGT, etc.
Auxiliary Equipment
Lime Rotary Kiln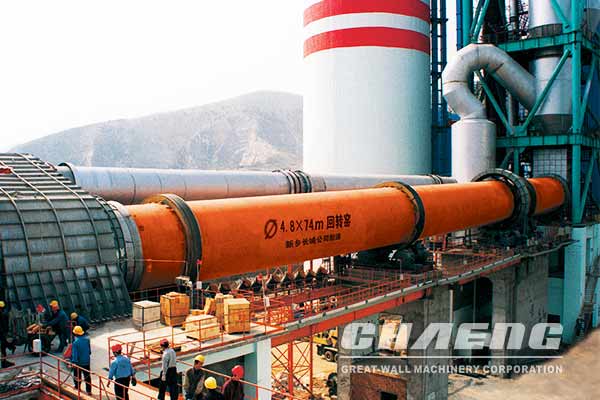 Cement Rotary Kiln
Active lime production line
Cement Production Line
​
Request for Quotation